An Introduction to John Packer Piccolos
As a flautist (or anyone sat nearby) you either love or hate the high pitches of the piccolo.  If you're in the market for one, what should you be looking for?

Like a flute, a piccolo is pitched in the key of C but it sounds an octave higher.  They are mainly used in wind bands, orchestras and flute choirs and are the most popular doubling instrument for flute players being a fraction of the cost of the bigger alto/ bass instruments.
The piccolo can be hard to adjust to at first as the embouchure hole is so small but the more it is played the quicker the progress. Learning the flute first is advisable to secure a good technique and embouchure on the easier lower pitches.
On most starter piccolos you will find a silver lip plate to mimic the shape of a flute and provide some guidance as to where the lip should be placed. A resin body is also easier to maintain and does not react to temperature changes.
Student Piccolos
John Packer JP114: 
The 2016 JP114 Piccolo is designed to be a reliable second instrument for any aspiring flautist. Made from a tough yet lightweight composite material the JP114 will stand the rigours of a student lifestyle whilst at a very affordable price point. This piccolo is very freeblowing with a deep and warm tone, similar to that of wooden instruments. 
The 114 also features a lip plate made of resin instead of silver plate -  again to darken the tone. The lip plate  has a cut away design which maximises the air used to play the instrument.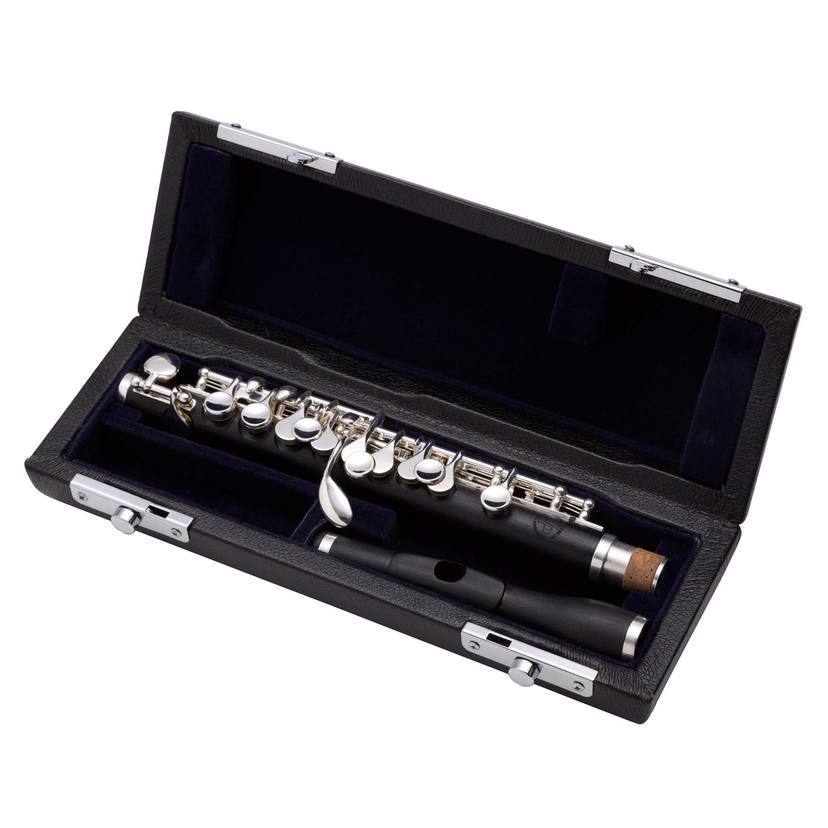 Find out more about the JP114 Piccolo here 
Step Up Piccolos
The midrange/entry level professional range of piccolos often lose the lip plate design and start to be made out of wood.  Some piccolos have a reform headjoint option, which is a raised wall on the far side of the lip hole to direct more of the wasted air into the piccolo.  
JP214 Piccolo:
The JP214 wooden piccolo is ideal for the advancing student looking for an affordable doubling instrument that can handle the demand called for in orchestras, concert bands and ensembles.  This free blowing piccolo can produce a big sound with a wide range of dynamics even in the notoriously troublesome high register. 
Like the JP114, the 214 has a cut away lip plate edge which gives a reponsive and focussed sound. The piccolo products a warm and sweet tone owing to the grenadilla wooden body. 
Cork pads give an improved seal, and silver plated keywork makes the keywork hard-wearing, strong and reliable.
Find out more about the JP215 Piccolo here
Both John Packer Piccolos come with a 2 year guaranttee and come in a case with essential accessories.
---
Want to read more? Click here for full specs on the JP piccolos